See our selection of screenrooms:
(ONLY AVAILABLE IN CANADA)
Gazebo Style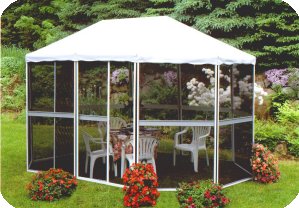 Round, Square or Rectangular
Screened Rooms by GAZEBO-penguin feature extra heavy duty aluminum with baked enamel finish and 100% rust proof fibreglass screens.
For gracious warm weather entertaining for your family and friends. Moves your living room outdoors where it's cool. Use it in the garden, as a cabana, a card room or around a spa. Makes a great sitting room (cool by day, too, thanks to ultraviolet shielding in the roof).
Makes a great bedroom on muggy nights. Optional wind or privacy panels, clear or white, provide extra privacy or protection from wind.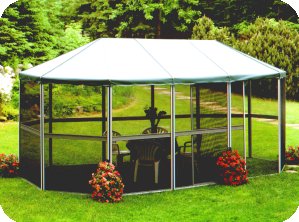 Made of fully extruded aluminum
Sliding doors on all models, except round. The benefits of sliding door versus the spring door are:
Takes less space to open
Safer for children as they can open the door without having it spring back on them.
The door handle can be put at any height so that the children can reach it.
Wheel chair user accessible.
Other benefits:
Comes with a tracking system to fasten to a wood or concrete platform.
Roofs have an ultra violet light inhibiter.
Wind panels come in a sets of clear or white and are easily installed or removed.
These rooms come in various sizes:
Round rooms come in 10′, 11′, 12′, 13′, and 14′ diameters.
Square rooms are 7'6″x7'6″, or 11'4″x11'4″.
Rectangular rooms are 7'6″x9'6″, 7'6″x11'4″, and 11'4″x15'1″.
Oblong rooms are 13'x9′, 15'x9′, and 16'x9′
Deluxe Add-A-Room
(All add-a-rooms require height of 96″ at rear wall to deck, minor variations to minimum of 88″, or maximum of 107″are possible but at an additional charge.)
Homeowners and Campers can extend the enjoyment of their Patio, Lawn or Deck with Add-A-Room's easy to assemble screen enclosure which attaches to any exterior wall or Trailer or RV.
(Deluxe Add-A-Room Rafters     1″ x  1″  )        E series
rooms limited to 7'6″ depth all widths as follows are  available  7'6″, 11'4″, 15'1″, 18'10", 22'7″ and 26'3
(Deluxe Add-A-Room Rafter 1 3/4″ x 1 3/4″)  A series
7′ 6″ depth as well as 9'6″ and 11'4″.
Because of the larger rafters these rooms can be obtained in a variety of depths from the trailer wall outward. The standard sizes are 7'6″, 9'6″, and 11'4″. The available widths of the room (along the trailer or house wall), are 7'6″, 11'4″, 15'1″, 18'10", 22'7″ and 26'3″. These can be manufactured to custom sizes as well, for a premium surcharge, but these are regular production sizes.
Families can now enjoy outdoor living such as barbecues, parties, sleep-outs, or hot tubs without the annoyance of insects. Add-A-Rooms give you the chance to enjoy outdoor living.
The standard roof has a sun blocking mildew resistant 3 ply vinyl, styled with scallops. Roof colors available are  Grey, Green, Blue, White and Taupe
Add-A-Rooms are simple enough for two people to assemble. Details and diagrams for step-by-step instructions are provided in every box.
Optional wind panels come in a sets of clear or white and are easily installed or removed. providing greater privacy and wind protection.
Add-A-Rooms are available in a variety of sizes to fit most patios, decks, RVs and trailers.
Frame colors are available in White, or Sand  Aluminum
 Parts
We also carry in-stock, or can get in a very short time any required parts for these rooms.
Call (705)-887-7113 for prices OR use our contact form. NOTE: Please include style and size in any inquiry for pricing.
(ONLY AVAILABLE IN CANADA)